The hyper-connected workplace
Will productivity reign?
March 28, 2018
​Workplaces are being flooded with new and exciting communications tools, each promising to improve productivity. But management must still make important decisions about which tools to use and how to use them—including, perhaps, the decision not to use certain tools at all.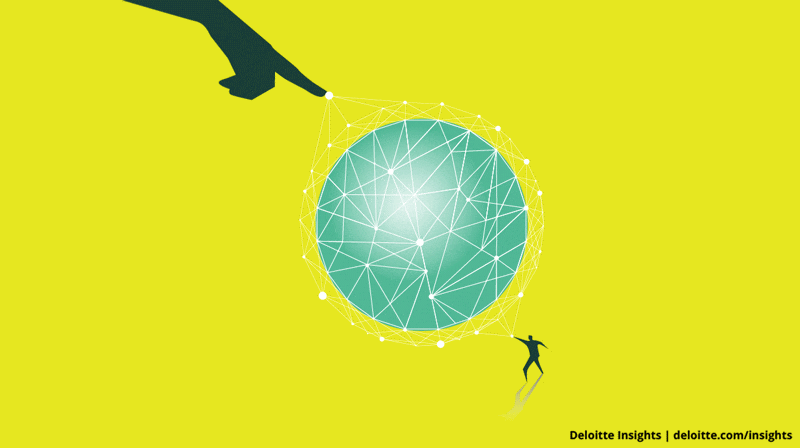 Too much information?
The sheer number and variety of communications tools continues to expand, all of them promising to make workers more efficient and productive. In an effort to realize this promise, smart organizations are reshaping work practices, physical workspaces, and leadership approaches to ensure that greater connectivity means greater productivity in a network of teams.
New communications tools raise a critical question for organizations: Are these tools actually increasing productivity, or is work turning into a chaotic, relentless series of messages, emails, conference calls, and chats? The move toward organizations designed around networks of teams adds a new dimension to this question.
In last year's Global Human Capital Trends survey, 88 percent of respondents were reorganizing their companies into a flatter, more networked team structure—2017's number-one trend. This year, if anything, this trend is reaching further into the organization. In 2018, 91 percent of respondents say that their organizations' employees spend time on projects outside their functional area, and 35 percent say that employees do so on a regular basis.
A flood of new tools is fueling this shift, each promising to give people more intelligent ways of communicating with each other. The market has attracted top tech companies such as Cisco, Microsoft, Facebook, Slack, Atlassian, and others, which have all announced new messaging, chat, and video communications systems.1
Yet this year's Global Human Capital Trends research uncovered a high level of anxiety about whether these new tools actually align with business goals. When asked about the productivity of the "new workplace," 47 percent of respondents said that it is a very important concern. And from an economic standpoint, the problem has become critical, as global workforce productivity growth is at its lowest rate in almost two decades.2
The massive change underway
How is this change in workplace communication playing out? Research shows that the communications behaviors, habits, and tools that people use in their personal lives are migrating into their work lives. Consider text messaging. Today, 74 percent of our survey respondents regularly use text messaging for personal communications; worldwide, 18.7 billion text messages are sent every day, with individuals between 25–34 years old sending and receiving more than 75 texts per day.3 As texting has become ubiquitous in our personal lives, it has also become commonplace at work, and 32 percent of our survey respondents expect its use to increase.
Many believe that tools such as social media and instant messaging will follow a similar path into the workplace. In fact, our 2018 survey results were striking: 44 percent of respondents believe that face-to-face meetings will decrease in the future, and 30 percent believe that phone and text usage will decrease. To replace them, 70 percent believe that workers will spend more time on collaboration platforms, 67 percent see growth in "work-based social media," and 62 percent predict an increase in instant messaging. No single mode of communication will be dominant; instead, the work environment will feature many different ways to communicate.
In addition, new, AI-based team management tools are starting to emerge. The newest versions of Office 365, G-Suite, and Slack now include AI-based recommendations to help individuals find the right document, respond to the right message, and understand what is most important.4 One HR systems provider recently introduced a product that uses AI to read employee pulse surveys and give managers recommendations on how to improve their management style.
The impact of these new communications tools can be very positive. Consider how Mayo Clinic, one of the world's leading health care organizations, has improved teamwork, information-sharing, and patient care with technology.5 Through a mobile app called AskMayoExpert, physicians can find information on diagnosis, treatment, cause, and prevention from other specialists and sources in the network. Users can ask and answer questions, and all information is tagged by topic, location, care process, and key fact. This highly interactive system is now widely used, with doctors obtaining access to experts more than 10 times a day.
Or take Starbucks. Just a few months after adopting Workplace by Facebook, 80 percent of Starbucks' store managers were actively using the tool to share knowledge, best practices, and support one another.6 Likewise, Walmart claims that an offering like Workplace is helping the company break down language barriers, increase knowledge-sharing, and even manage emergencies like Hurricane Harvey.7
Preview our virtual reality experience
Visit Deloitte Digital's complimentary Hyperconnected Workforce app experience via your iPhone here or your Android here, and view the experience with your mobile device.
The importance of management choices
While 2018 will see the continued introduction and adoption of many new and exciting tools, management must still make important decisions about which tools to use and how to use them. Critically, this can often include the decision not to use certain tools.
Managers must determine which tools are best for their organization, teams, and tasks based on a variety of factors, including culture, pace of communication, and level of formality. For example, some companies may benefit from a wholesale leap to a collaboration tool, while others will need to retain email as a vital and valuable means of communication. Whichever tools are selected, it is important to create standards and guidelines that align individual productivity with team and organizational productivity.
For instance, Autodesk, a leading provider of 3D design and engineering software, found that it was supporting 85 separate implementations of Slack, each used by a different team to manage work in its own unique way. While these teams were happy, there was no sharing of common best practices, and no ability to collaborate between teams.8
Guy Martin, Autodesk's director of open source programs and team facilitation, decided it was time to "tie these teams together." The company adopted the principle to be "open by default," and convinced all 85 project teams to share their channels in one overarching enterprise implementation of Slack. This made it necessary to create naming conventions and several general usage guidelines, but it resulted in a tremendous increase in company-wide collaboration. Today, Autodesk's Slack community has more than 5,000 active members, leading to greater learning, open collaboration, and positive sharing—the ingredients needed to move away from a "collection of teams" to a "network of teams."9
From connectivity and activity to teamwork and productivity
The proliferation of new tools and related programs is impressive. Nearly half of this year's survey respondents (46 percent) regularly use virtual meeting software, and 30 percent now use location-based videoconferencing. But greater use of communications tools by individuals does not automatically mean increased productivity for teams and organizations. Indeed, while 71 percent of our survey respondents believed that these new tools improve their personal productivity, 47 percent were concerned about whether the tools are really driving productivity overall.
Our research suggests that in today's networked organizations, a combination of technology, physical space design, new leadership approaches, and new work practices must all come together to achieve this goal. This requires collaboration between HR, IT, and the business to build an integrated, customized work environment.
Adaptable and flexible workspaces are one key to enabling productivity. For example, at ING Bank and Atlassian, agile teams work in co-located workspaces with large whiteboards that show project plans, shared goals, and project status.10 Some software firms like Skype and others not only give employees private cubicles, but also lavish the workspace with gourmet cafeterias, quiet rooms, and even napping pods.11 This mix of physical spaces helps people work together or privately when needed and quickly collaborate on projects.
Moving beyond thinking of personal productivity and technology tools in isolation is critical for organizations to achieve positive results. A combination of culture, leadership, and incentives needs to come together for effective collaboration and productivity to reign. To do this, HR organizations must work with IT to bring their expertise in team management, goal-setting, and employee development to help make using the new wave of connectivity tools productive, simple, and engaging.
The bottom line
Companies are concerned about a potential disconnect between new communications tools and organizational goals. To help ensure that personal connectivity translates to organizational productivity, they are adapting their practices, workspaces, and leadership styles to capitalize on the power of these tools while mitigating potential negative impacts.
Originally published at Deloitte Insights