People data
How far is too far?
March 28, 2018
​The use of workforce data to analyze, predict, and help improve performance has exploded over the last few years. But as organizations start to use people data in earnest, new risks as well as opportunities are taking shape.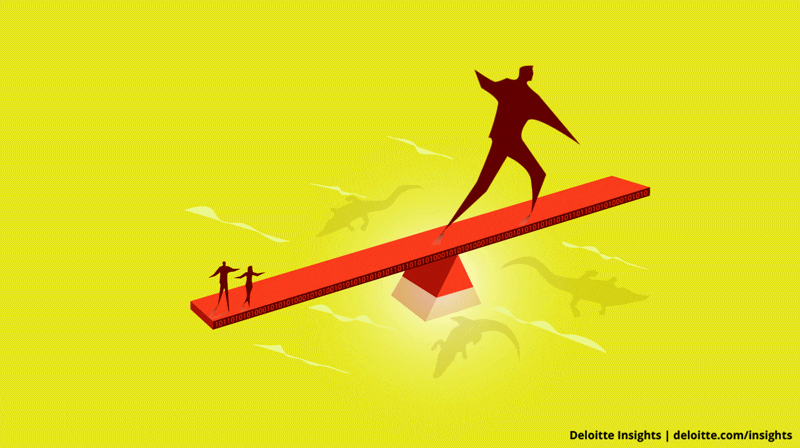 People analytics goes mainstream
The domain of people analytics is growing rapidly, offering new opportunities to better hire, manage, retain, and optimize the workforce. As organizations collect more personal and business data about their employees, however, they raise growing risks and ethical questions about data security, transparency, and the need to ask permission. Organizations now need robust security safeguards, transparency measures, and clear communication around their people data efforts—or they could trigger employee privacy concerns and backlash over data abuse.
The use of workforce data to analyze, predict, and improve performance has exploded in practice and importance over the last few years, with more growth on the horizon. In our 2018 Global Human Capital Trends survey, 84 percent of respondents viewed people analytics as important or very important, making it the second-highest-ranked trend in terms of importance.
What explains this surge? We see three converging forces driving people analytics:
A growing emphasis on critical workforce issues such as productivity and employee engagement, as well as on social issues such as diversity and gender pay equity, is raising CEO-level questions about the best way to lead and manage people.
Big HR investments in people analytics are yielding many new sources of data. Our research shows that more than 70 percent of respondents are in the midst of major projects to analyze and integrate data into their decision-making.
Organizations are growing more anxious about their ability to protect employee data—and for good reason. This year, only 10 percent of our respondents felt that their companies were "very ready" to deal with this challenge.
The growing power of people data
The people data revolution, predicted for years, has finally arrived. Sixty-nine percent of organizations are building integrated systems to analyze worker-related data, and 17 percent already have real-time dashboards to crunch the avalanche of numbers in new and useful ways.1 Among companies at level 3 and 4 in Bersin's people analytics maturity model,2 90 percent have accurate, timely data, and 95 percent have data security policies in place. These leading companies are monitoring people data from many sources, including social media (17 percent), surveys (76 percent), and integrated data from HR and financial systems (87 percent).3 Creative organizations are mining this rich variety of sources to create a comprehensive "employee listening architecture," providing new insights about the entire employee experience as well as data on job progression, career mobility, and performance.
Advanced analytics can now track and analyze a dizzying amount of employee data, including data harvested from voice communications, personal interactions, and video interviews. Even the sentiment of employee emails can now be measured and monitored.4 Several vendors now offer organizational network analysis (ONA) software that interprets email traffic to monitor employees' stress levels and help spot fraud, abuse, and poor management. Other ONA tools can analyze employee feedback and performance to identify management challenges, send coaching tips to different leaders, and identify key knowledge management resources, subject-matter experts, and organizational influencers based on their interactions and relationships—not necessarily their titles and roles.5
Heightened rewards, heightened risks
Analytics tools offer tremendous opportunities. But in the face of the obvious benefits, many executives may be slow—or perhaps reluctant—to recognize the significant potential risks. Organizations are approaching a tipping point around the use of people data, and those that tilt too far could suffer severe employee, customer, and public backlash.
Indeed, some organizations are now considering the mere existence of data to be a risk. This is the premise behind requirements in the European Union (EU) and elsewhere that one must delete a data element immediately when it is no longer relevant to the processing need, or else face a variety of consequences due to the risk that retaining it presents. Europe's new General Data Protection Regulation (GDPR), slated to come into effect in spring 2018, expands upon this concept by defining high-risk data as that which is "likely to result in a high risk for the rights and freedoms of individuals," and that, therefore, requires greater protection.6 Private sector actions should keep pace with forward-looking efforts that are designed to strengthen data privacy regulations. Companies that break the new GDPR rules will face penalties as high as €20 million, creating strong incentives for organizations to take data protection seriously.7
What risks are most pressing? Our 2018 survey yields some important insights. This year, 64 percent of respondents reported that they are actively managing legal liability related to their organizations' people data. Six out of ten said that they were concerned about employee perceptions of how their data is being used. However, only a quarter reported that their organizations were managing the impact of these risks on their consumer brand.
Fears over employee privacy appear justified. Beyond the sheer quantity of data some organizations have amassed, the mere existence and possession of sensitive data creates risk, regardless of volume. One employer, for instance, installed body heat detectors at desks to track how many hours people spent in the office. Employees reacted with outrage, swamping managers with complaints and leaking unflattering stories to the media.
Many employees fear that sensitive data may be vulnerable to high-profile cyberattacks—again with good reason . While 75 percent of companies understand the need for data security, only 22 percent have excellent safeguards to protect employee data.8 Research also shows that the 30 percent of companies that do not consider people data worth the exposure to data risk have no strong data governance structures at all.9
Emerging concerns about AI, algorithms, and machine-driven decisions
Data security is a long-standing risk, but there are new risks as well. Some experts worry that algorithms and machine-based decisions could actually perpetuate bias due to flaws in the underlying data or the algorithm itself. Understanding the potential for this type of risk is critical to preventing a new source of bias from seeping into an organization's hiring or promotion processes.
The marriage of people data and algorithm-based artificial intelligence (AI) raises such concerns to a new level. Just as people may never know why a certain advertisement pops up on their Web browser, business leaders are beginning to realize that "data-driven decisions" are not guaranteed to be understandable, accurate, or good.
Even advanced technology companies like Facebook and Twitter have discovered that AI without humans can be "stupid."10 In response, they are hiring thousands of people to monitor their AI-based social networking and advertising algorithms.11 HR organizations must be rigorous in monitoring "machine-related" decisions to make sure they are reasonable and unbiased.
Tech leaders are beginning to invest more resources in solving these problems. A consortium of data experts recently formed the Partnership on AI to Benefit People and Society, a group funded by Amazon, Apple,12 Facebook, Google, IBM, and Microsoft. This group was established specifically to study and formulate leading practices on AI technologies, to advance the public's understanding of AI, and to serve as an open platform for discussion and engagement about AI and its influences on people and society.13 Ginny Rometti, the CEO of IBM, has also laid out a set of ethical principles for the use of data and AI.14
Staying on the right side of the tipping point
Despite the potential risks, the promise of people analytics remains too valuable for organizations to pass up. For example, GE, Visa, IBM, and others are developing a suite of analytics tools that find "nonobvious" job candidates and recommend training.15 GE's HR analytics team is using data that tracks the "historical movement of employees and relatedness of jobs" to help employees identify potential new opportunities across the company—regardless of business unit or geography.16 To boost productivity, Hitachi Data Systems uses smart badges to identify behaviors that contribute to employee happiness and performance, leveraging this data to rearrange workspaces and teams.17
We predict explosive growth in the coming year for smart products that leverage employee data. The spectrum of risks associated with the collection, storage and use of this data can and should be effectively managed. Strategies such as anonymization and encryption can allow organizations to make effective use of people data while managing the risks associated with storing and processing various kinds of personal information.
Creating a secure organizational context
It is now clear that companies using people data and analytics, as well as vendors that provide these services, need robust policies, security, transparency, and open communication to address the associated risks. These elements should work together to create a secure organizational context for the use of people data—one that reduces the likelihood of leakage, error, and abuse.
One important aspect of managing the risk of people data analytics is to know all of the places where personal data resides. Mapping the flow of personal data to and from systems, especially when those systems are connected to analytics engines, is essential for creating transparency and installing proper protections. The use of discovery, mapping, and classification tools can help organizations classify both structured and unstructured data.
The IT, HR, and legal departments at leading organizations collaborating to make recommendations about data risks and organizational responses. These companies have clear policies and communications that explain to employees what data is being collected and how it is being used. This helps to engage employees as informed stakeholders who understand and support the benefits of people analytics for their work and their careers.
The bottom line
Organizations need to understand the trade-offs involved in the accelerating collection and use of employee and workforce data. Most have good intentions in collecting and using this data, but these troves of data also raise significant risks. Companies must be vigilant about data quality, data security, and the accuracy of machine-driven decisions. While this is a relatively new challenge for HR, it is rapidly, and rightly, becoming a top priority.
Originally published at Deloitte Insights