Citizenship and social impact
Society holds the mirror
March 28, 2018
​Stakeholders today are taking an intense look at organizations' impact on society, and their expectations for good corporate citizenship are rising. In an effort to meet these expectations, leading organizations are making citizenship a core part of their strategy and identity.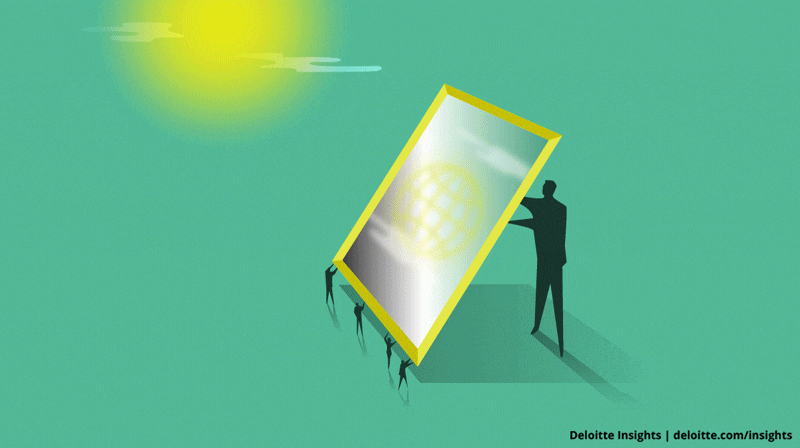 Building an organization's social capital
The social enterprise must evaluate its actions based on its impact on society, not just the bottom line. As stakeholder expectations rise, an inauthentic or uneven commitment to citizenship can quickly damage a company's reputation, undermine its sales, and limit its ability to attract talent. For organizations, a new question is becoming vital: When we look in the mirror held up by society, do we like what we see?
Corporate citizenship is no longer simply a corporate social responsibility (CSR) program, a marketing initiative, or a program led by the CHRO. It is now a CEO-level business strategy—defining the organization's very identity. Issues such as diversity and inclusion, gender pay equity, income inequality, immigration, and global warming are being openly discussed by individuals, families, and political leaders around the world. And our research shows that many stakeholders are frustrated with political solutions to these problems and now expect businesses to help address these critical problems.
In a letter to investors in early 2018, BlackRock CEO Laurence Fink indicated that people are "turning to the private sector and asking that companies respond to broader societal challenges."1 This sentiment, confirmed by this year's Global Human Capital Trends research, prompts CEOs and the entire C-suite to hold their companies to higher standards. In this year's Global Human Capital Trends survey, 77 percent of our respondents cited citizenship as important and 36 percent rated it as very important.
The term "citizenship" can refer to everything an organization does that impacts society. We define it as a company's ability to do social good and account for its actions—both externally, among customers, communities, and society, and internally, among employees and corporate stakeholders.
Why is citizenship critical now?
What is driving the intense focus on citizenship for organizations and society?
First, organizations now operate in a highly transparent world. Internal and external behavior is almost impossible to hide.2 In 2017, dozens of stories about gender bias, unequal pay, and poor executive behavior made the headlines. Any mistreatment of customers can be instantly filmed and shared with a global audience. And in 2018, for the first time, most US public companies will be required to disclose their "CEO pay ratio," which compares the CEO's compensation to employees' median pay.3
Second, it is now clear that millennials, who make up over half the workforce in many countries,4 tend to have sky-high expectations for corporate responsibility. A 2017 study by Deloitte found that millennials are becoming increasingly sensitive to how their organizations address issues such as income inequality, hunger, and the environment. Eighty-eight percent of millennials believe that employers should play a vital role in alleviating these concerns, and 86 percent say the business success should be measured by more than profitability.5
Third, corporate citizenship now directly impacts customer and employee brand. A recent Nielsen study found that 67 percent of employees prefer to work for socially responsible companies, and 55 percent of consumers will pay extra for products sold by companies committed to positive social impact.6 The Deloitte millennial study mentioned earlier found that millennial employees who believe that their employer supports the local community are 38 percent more likely to stay at that employer for five years.7
Finally, more and more businesses are becoming embroiled in issues of political, social, and economic controversy. These debates are challenging CEOs to take political positions on behalf of their employees and customers. Kenneth Frazier, the CEO of Merck, believes that "business exists to deliver value to society." He has taken vocal political positions and redefined how the pharmaceutical industry contributes to society.8 High-profile global commentators such as Nicholas Kristof and Yale professor Jeffrey Sonnenfeld have called on businesses to seize their potential to help address social problems and improve lives.9
Good corporate citizens outperform others financially
An organization's financial performance appears to be linked to its citizenship record. Watchdog groups have created hundreds of CSR and "best places to work" indexes, including Fortune's Most Admired Company list,10 the Dow Jones Social Responsibility Index,11 and many others. A new meta-study found a direct correlation between CSR index ranking and profitability,12 and a longitudinal study of purpose-focused companies found that they outperformed their S&P 500 peers by a factor of eight.13
The investment community is paying attention. A study of 22,000 investment professionals found that 78 percent have increased their investments in CSR-focused firms.14 Some investors also evaluate organizations through online rating platforms such as Glassdoor, understanding that employment brand correlates directly with the quality of hiring and retention.
Many organizations are responding to the demand for good citizenship and the growing link between social impact and financial performance. Target recently announced that it would increase pay for all 320,000 of its retail employees to $15 per hour by 2020—twice the US federal minimum wage. The company also offers employees shopping discounts, tuition reimbursement, and flexible schedules in its efforts to "do well by being good."15 Salesforce donates 1 percent of its profits to charities and gives employees a full week of "volunteer time off" each year.16 Unilever directs employees to avoid a singular focus on ROI and instead implement "USLP": Unilever's Sustainable Living Plan.17
Organizations across many industries are putting citizenship at the core of their mission. Tesla defines its business as "accelerating the advent of sustainable transport."18 This has helped the company broaden its value statement to give investors a sense of societal impact. CEO Elon Musk regularly speaks about the importance of electric vehicles in preventing "environmental catastrophe."19 And Bank of America focuses on responsible growth, "guided by a common purpose to help make financial lives better through environmental, social, and governance leadership."20
Needed: An integrated, authentic citizenship strategy
Despite these high-profile examples, many other organizations appear to be failing to effectively integrate citizenship into their overall strategy. In this year's Global Human Capital Trends survey, while 77 percent of our respondents cited the issue as important, only 18 percent said that citizenship was a top priority reflected in corporate strategy. Another 34 percent had few or poorly funded citizenship programs, and 22 percent admitted to having none at all.
In 2018, we believe that companies have a unique opportunity to make citizenship a core part of their strategy and identity. Moving beyond fragmented programs, CEOs and executive committees should communicate a single, comprehensive, and authentic strategy that defines who the company is, what it says, and what it does. Then, they should hold organizational leaders accountable for results.
Some of the most successful corporate citizens are already moving in this direction. Such an effort is necessary to measure, understand, and improve the many impacts that make up corporate citizenship.
The bottom line
In the era of the social enterprise, stakeholders are taking an intense look at organizations' impact on society, whether it is how well a product meets people's needs, how a manufacturing plant affects the community, or how employees feel about their jobs. This mirror—held up to businesses by society—reflects an organization's identity for all to see, and burnishing that reflection is now vital for success.
Originally published at Deloitte Insights